2017年6月25日,由中国花舍集团和荷兰翰集团联合打造的花舍鲜之味(CINDY'S UMAMI by han )品牌进驻中国,首家门店启动仪式在渔阳饭店召开。 Umami by Han是欧洲唯一一家米其林必比登连锁品牌。
2017年6月25日,由中国花舍集团和荷兰翰集团联合打造的花舍鲜之味(CINDY'S UMAMI by han )品牌进驻中国,首家门店启动仪式在渔阳饭店召开。 Umami by Han是欧洲唯一一家米其林必比登连锁品牌。
On Jun. 25th, 2017, Cindy's Umami by Han, a co-brand founded by Cindy' s Cafe and Han Group, held a grand opening ceremony for its first Yuyang store in Beijing. Cindy's Umami by Han is the only sino-foreign joint Michelin chain restaurant in Europe.
参加启动仪式的嘉宾有东城区统战部部长兼工商联主席郝国信,国家行政学院经济学教授李江涛,天士力控股集团董事局执行主席阎凯镜,以及人民日报、中国日报、北京日报、北京晚报、参考消息、中国食品安全报、中国青年杂志、人民在线、新华网、中华网、搜狐、新浪、网易、优酷视频、土豆网、爱奇艺等数十家媒体。
The opening ceremony invited many distinguished guests: Mr. Hao Guoxin, minister of United Front Work Department of Dongcheng District and chairman of the National Federation; Mr. Li Jiang, the professor of economics from China National School of Administration; Mr. Yan Kaijing, executive chairman of board of directors of Tasly Holding Group. And it also caught great attention from lots of media, including People daily, China Daily, Beijing daily, Beijing Evening News, Reference News, China Food Safety News, China Youth, People Online, Xinhua Net, Chinadotcom, Sohu, Sina, Netease, Youku, Tudou, iQIYI, etc.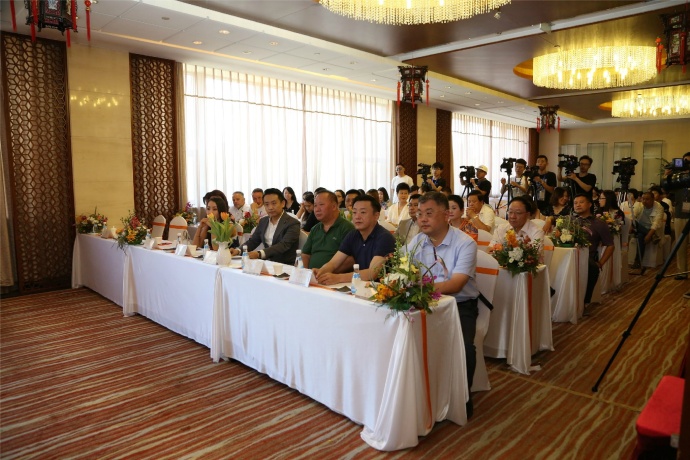 强强联手  引领餐饮业新发展
Win-win Cooperation to Lead the brand-new development of Catering Industry
 CINDY'S UMAMI by han 花舍鲜之味,是中国花舍集团和荷兰翰集团合资的餐饮连锁品牌,也是北京首家荷兰品牌创意时尚西餐厅。花舍鲜之味渔阳店的启动,标志着餐饮业一个全新模式的业态在首都诞生,是花舍集团迈向国际的第一个举措。
 CINDY'S UMAMI by han is not only a chain catering brand co-founded by Cindy's Group and Han Group, but also the first Dutch creative western restaurant in Beijing. The opening of Yuyang store is the first step of Cindy's Group towards internationalization, symbolizing the birth of a brand-new catering pattern in Beijing, China.
 花舍集团与荷兰翰集团强强联合,以领先的市场意识,紧密围绕中国餐饮与国际接轨的战略目标,以连锁经营为手段,拓展国际市场的重要战略部署,引领餐饮业进入一个全新的发展阶段。
Through win-win cooperation with Han Group, Cindy's Group adapts advanced market awareness and closely adheres to the strategic goal that Chinese catering industry should be internationally compatible. By means of chain operation, it strategically expands international market in order to lead catering industry to a brand-new development stage.
花舍鲜之味以"创新、时尚、健康"为宗旨,启用专业团队在世界各地精挑细选的优质食材,菜品以激发食材的主味略带酸味,唤醒东方味蕾的创意西餐为主,所有菜品均由花舍鲜之味星级主厨研发,让人在舌尖上感受食材的美妙,享受高品质的饮食生活。
On the basis of "creativeness, fashion, health", professional catering team of CINDY'S UMAMI by han carefully select top-quality ingredients from all over the world. All dishes maintain the original taste of ingredients with a little bit sour. They mainly are creative western cuisines which can arouse eastern buds. All dishes are developed by star-level chefs of CINDY'S UMAMI by han to bring fantastic taste to customers, making them enjoy high-quality dietetic life.
米其林厨师群赞花舍鲜之味
(CINDY'S UMAMI by han )
CINDY'S UMAMI by han Receive Full of Praise from Michelin Chefs
 发布会现场,花舍鲜之味的两位主厨现场为到场嘉宾制作了两道经典菜品:挪威深海牛油果帝王蟹和有机云耳芋丝,获得了到场嘉宾及米其林星级厨师维文温克和维文罗斯的连连称赞和肯定。
During the opening ceremony, two chefs from CINDY'S UMAMI by han exhibited Norwegian Deep-sea King Crabs with Avocados, and Organic Cloud Ear with Shredded Taro, which were tasted by Michelin chefs Edwin Loos and Edwin Vinke, receiving favorable compliment.
维文温克表示:花舍鲜之味创始人纪晓翰先生在荷兰很有名气,他研发的菜品很令人期待。对于有机云耳芋丝,维文温克品尝后连声说"great""beautiful";对于挪威深海牛油果帝王蟹沙律,维文罗斯说,这盘帝王蟹非常柔软,非常鲜美,与配菜放在一起,是非常完美的杰作,里面还有一些芒果的味道,充分激发了帝王蟹的鲜美。
Chef Edwin Vinke agreed that Chef Ji Xiaohan, the founder of CINDY'S UMAMI by han, enjoys great fame in Netherlands that his dishes are very expecting. After tasting Organic Cloud Ear with Shredded Taro, Chef Edwin Vinke repeated "Great! Beautiful!". As for Norwegian Deep-sea King Crabs with Avocados, Chef Edwin Loos said, "The king crabs are really soft and delicious. It's a very perfect masterpiece after combining with avocados. And the slight mango flavor in it fully stimulates the freshness and deliciousness of crabs."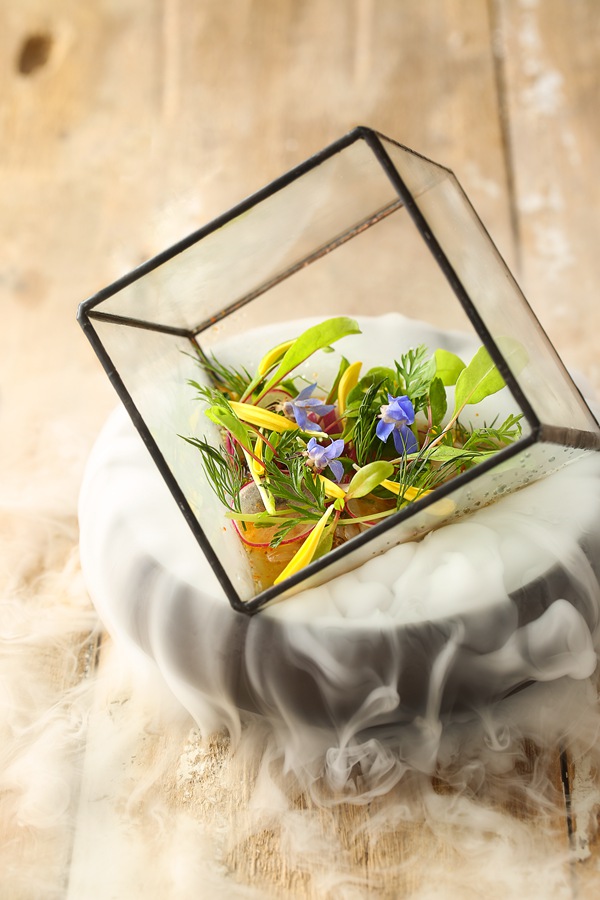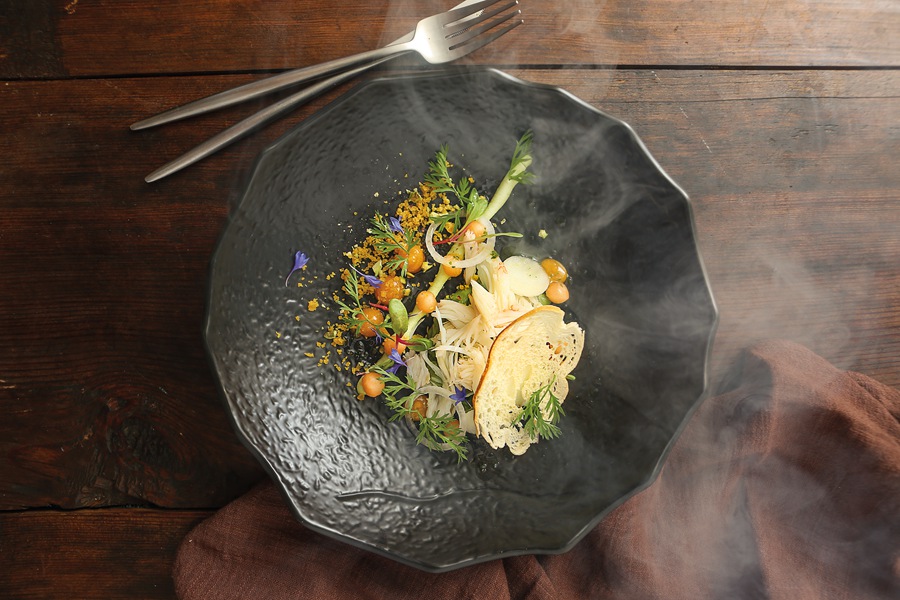 唤醒东方味蕾的创意西餐
Creative Western Cuisines: Arouse the Eastern Buds
创始人纪晓翰先生在荷兰创建翰集团,通过多年研究中餐和法餐的优缺点,独创了自有菜系:翰式厨房(Han Kitchen),被荷兰皇家饮食与酒业公会授予了行业最高荣誉的钻石奖。翰集团业务范围涵盖餐饮食品、传媒、医药等领域,其中餐饮板块品牌包括荷兰唯一米其林中餐星级餐厅翰婷轩,欧洲唯一拥有多家米其林必比登分店的连锁品牌Umami by Han,Les Amis Saisonnier精英会员红辣辣花园酒店,新派法餐VOC,并荣获荷兰最佳亚洲餐厅奖、JRE(欧洲最大高级餐饮行会)的年度最佳餐厅奖,Gault&Millau国际年度最佳品酒师奖等多项荣誉。
Mr. Ji Xiaohan, the founder of Han Group in Netherlands, innovates the exclusive dish style "Han Kitchen" by studying the pros and cons of Chinese cuisines and French cuisines for many years. He was awarded the highest honor "Diamond Award" by the Imperial Catering and Wine Union in Netherlands. Han Group covers a diversified scope of business, including catering, media and medical care. In the catering area, the subsidiary brands include Han Ting Cuisine, Umami by Han, Red Chilli, VOC, and CINDY'S UMAMI by han. Han Ting Cuisine is the only one Michelin Chinese restaurant in Netherlands that it has chain brands including Umami by Han, Les Amis Saisonnier, Red Chilli and VOC. It has obtained multiple awards such as "the Best Asian Restaurant in Netherlands", "JRE Best Restaurant of the Year", "Gault & Milau International Best Wine Taster of the Year", and the "Diamond Prize".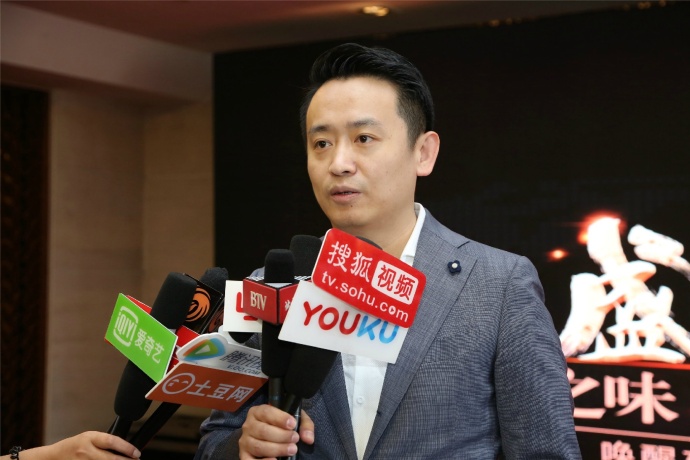 创始人郑金艳女士, 2004年创办"花舍咖餐厅",目前有30多家门店,被誉为中国十大休闲餐饮品牌、国家四钻餐厅、北京餐饮企业50强,获得北京、天津、山西,黑龙江咖餐第一品牌等多项荣誉,并创办花舍商业地产、幸福知行教育有限公司、花舍京津爱心公益联盟、水肤源高端皮肤管理中心等多个子品牌。
Ms. Zheng Jinyan, the other founder of CINDY'S UMAMI by han, founded Cindy's Cafe in 2004. Currently Cindy's Cafe has over 30 stores and is praised as "One of the Top Ten Casual Catering Brands", "National Four-diamond Restaurant", "One of the Top 50 Restaurants in Beijing Catering Industry". Apart from receiving honor from cafe restaurants from Beijing, Tianjin, Shanxi. Heilongjiang, Ms. Zheng also establishes a series of sub-brands including Cindy's Commercial Real Estate, Zhixing Education Ltd., and Aqua Beauty Salon.
"唤醒东方味蕾的创意西餐"。CINDY'S UMAMI by han忠于食材本味,尊重匠心精神,精心挑选食材,善于突破传统,成功地将中餐和西餐融会贯通,符合东方人口味,在舌尖上品鉴来自阿姆斯特丹的创意西餐,游走穿梭在食材本味之中,将西餐推向了简单、时尚、健康。 
CINDY'S UMAMI by han stresses the original flavor of ingredient to maintain the freshness and quality of each dish, bringing fantastic enjoyment to customers. It carefully selects ingredients and breaks tradition to successfully integrate western cuisines and Chinese cuisines, catering the easterners' taste. And it focuses on producing creative western cuisine in concepts of simpleness, fashion and health.
经典的味道,就是大自然所带给我们最原始的味道,不需要依靠花哨的点缀,最原始的就是最经典的,花舍鲜之味用实际行动提醒着人们:尊重天然,延续经典。
Taste of the classic is the most original flavor brought by the nature without any fancy decoration. And the most original is the most classical. What CINDY'S UMAMI by han has been reminding people by practice is to respect the nature and inherit the classic.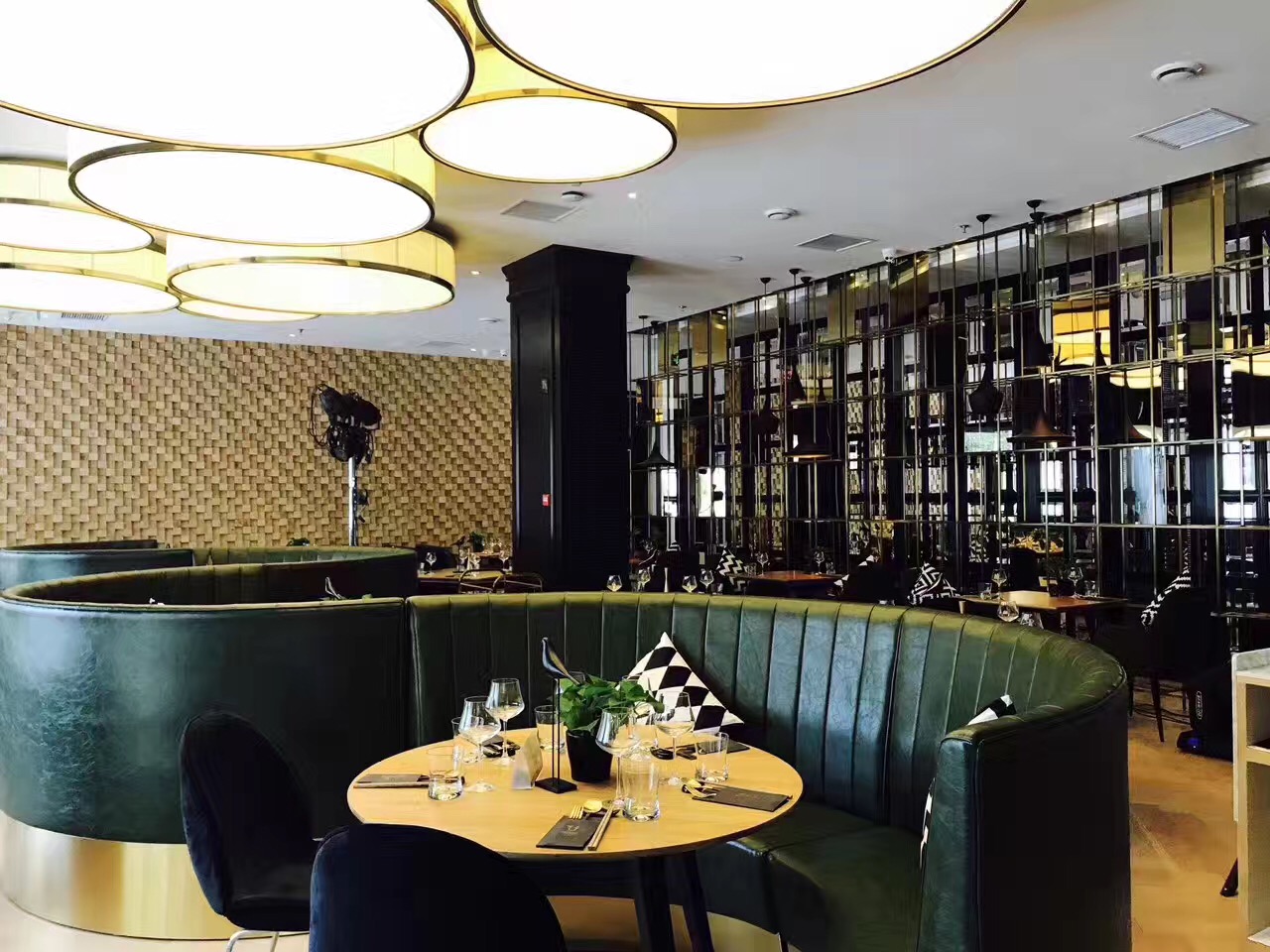 花舍鲜之味的正式启动,是花舍集团与荷兰翰集团合作的第一步,也是创意西餐跨越发展的一个重要里程碑,是餐饮行业的一件大事。它肩负着中国餐饮与国际接轨的重任,以匠心精神提供优质出品为百姓的高品质生活服务。
The opening of CINDY'S UMAMI by han is not only the first step for the cooperation between Cindy's Group and Han Group, but also a significant milestone for the leaping development of creative western cuisines. It greatly influences the catering industry. Undoubtedly, it shoulders heavy responsibilities for Chinese cuisines to be in step with the internationalization and provide high-quality services to customer in spirit of originality.
花舍鲜之味将秉承和发扬"创新、时尚、健康"的宗旨和"客户满意是我们唯一标准"的品牌诉求,为京城百姓提供高品质服务,开创国际型连锁餐饮企业。
CINDY'S UMAMI by han will adhere to the concepts of "creativeness, fashion, health", and the brand appeal of "Customer satisfaction is our only standard". It will strive to offer high-quality services to Beijing customers and pioneer an international chain restaurant.